3F Waste Recovery in the Media
3F Waste Recovery is a life sciences manufacturer focused on recovering and converting fish, farm and forest waste from Newfoundland and Labrador into high value nutraceutical, cosmetic and pharmaceutical (NCP) products.
Our launch plan is nothing less than a strategy to modernize and transform the value chain in the cod fishery of Newfoundland and Labrador. It is the culmination of nearly three years of research and networking across the province with thousands of stakeholders in academia, government and enterprise. The concept of 3F is underpinned by two primary questions:
What raw material waste is most abundant in NL?
Of those raw materials, which can be converted into the highest value applications?
The answer to these questions is without a doubt: cod skins. The very skins that fishers have tossed overboard by the ton for centuries in our fishery, are in fact the best source, of the best collagen, in the entire world. 3F has a plan to capitalize on this undeveloped market and propel itself towards national leadership in premium marine ingredients manufacturing, right here in Newfoundland.
3F has assembled an impressive team of local and international scientists, fish processors, cosmetic manufacturers and life science leaders to execute its strategy for revolutionizing the cod fishery of NL and create a lot of wealth doing so.
Our plan is presented in a 3 phase approach. In Phase 1, we are verifying and acquiring the IP portfolio and services of our [international] scientists. Once verified we then go into pilot scale production of food grade cod collagen with the our research partner to fulfill our collagen order with a Canadian nutraceutical manufacturer. In Phase 2, we go into full production and invest in R&D to improve collagen solubility and extract collagen from other types of fish skins. Then in Phase 3, we scale up our cod protein production to maximize profits generated from cod heads and frames. Simultaneously we make a strategic shift in our R&D towards refining our cod ingredients for higher margin, more refined cosmetic and pharmaceutical applications.
Tangible progress to date includes: an incorporated partnership with a local seafood processor that is already generating revenue selling cod skins, a quote to acquire cod collagen and protein intellectual property and a turn key plant design from our European food science team, and a purchase order for all of the cod collagen we can make from our strategic customer.
There's also a pilot project ready to launch that would send NL cod heads and frames to be dried in [European country] and sold into [African country] by our [European] brokerage partner.
Our plan is solid. With sufficient investment and wise leadership there is no doubt that its execution will create new wealth in our cod fishery. 3F has done all of the legwork to bring together the stakeholders, technologies, and a surefire approach to implementation. We hope that after reading our plan, your organization will partner with us and bring 3F's vision to life.
We ask that interested investors please contact us to complete an NDA before receiving our most up to date business plan and financial projections.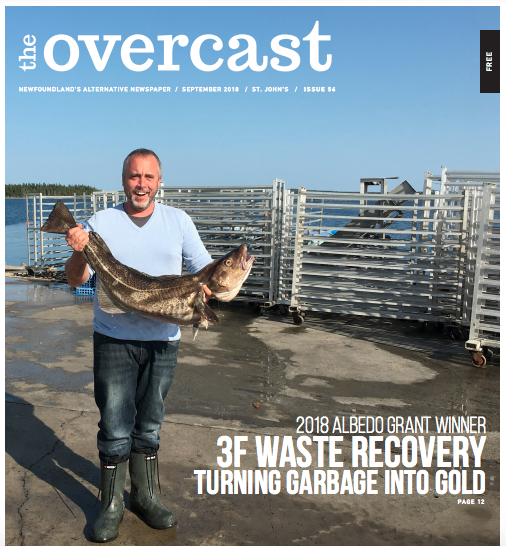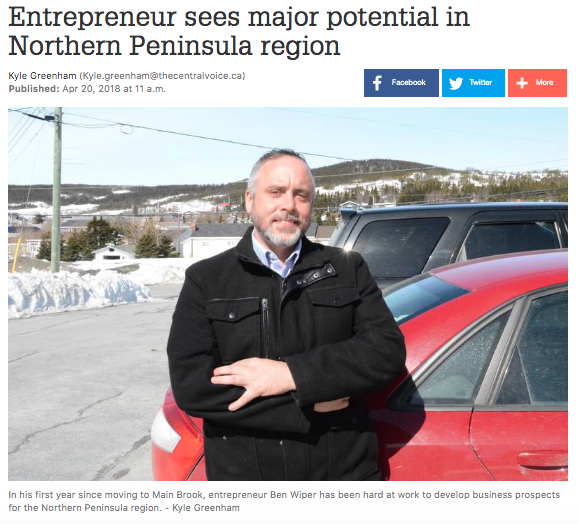 3F Waste Recovery Wins 2nd Place in the Genesis Centre's Summer 2018 "Pitch and Pick" Contest - August 17, 2018
2018 Albedo Grant Winner Announcement - The Overcast - August 29, 2018
BioNova Names 2018 BioInnovation Challenge (BIC) Semi-Finalists - August 29, 2018
Northern Peninsula entrepreneur wins $12,500 Albedo Grant - Saltwire Network - August 30, 2018
Interview on VOCM Morning Show - September 4, 2018
CBC The Broadcast with Jane Adey - September 4, 2018
How a Northern Peninsula company is turning fish guts into facial masks - September 8, 2018
Newfoundland Company mining fish, farm, and forestry waste for profit - January 18, 2019
Multi-Materials Stewardship Board to Provide Almost $100,000 to Support Green Innovators - February 20, 2019
Full-circle operation in rural Newfoundland gives scraps...a second life - April 2, 2019
Main Brook-based entrepreneur developing innovative composting method - October 31, 2019
NL Company Creating Cod Skin Pet Treats to Find New Use for Overlooked Materials  - June 18, 2020
Shortlist for ocean startup challenge - Sept 22, 2020
VIDEO: Cod collagen project and a boat called AMOS; East Coast entrepreneurs among winners of Ocean Startup Challenge  - October 2, 2020
FISHERIES: What are Newfoundland and Labrador politicians promising and what can they deliver?  - Feb 9, 2021